CLICK ON THE INDIVIDUAL TOURNAMENT FOR MORE INFORMATION
If you have an event planned that isn't listed please send it to us via the Contact Us page and we will get it on the Tournament Calendar. We value your privacy and won't add you to any mailing list, sell your info, etc.
IF YOU FISH GUNTERSVILLE BE SURE TO REGISTER FOR THE BASSCASHBASH
200 tagged bass worth $1000 ($1500 w/bonus t-shirt) as well as one with a tag for a Phoenix BOAT & one for a Dodge TRUCK will be swimming in the lake by March 1st! Click link for more details.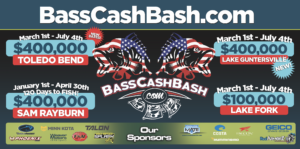 Don't be THAT GUY (or gal) that catches a tagged fish and wasn't registered!
Disclaimer: We are only as good as the information we are provided and make no warranties regarding the dates, times, etc. If you see tournament information that is incorrect please Contact Us so we can correct.